The genre of historical fiction can entice students into historical explorations and offer a dramatic study of history at an emotional level. But digging and uncovering the historic facts that go into historical fiction are equally engaging and exciting.
Author L.M. Elliott writes historical fiction and brings history to life for her readers. She has written award-winning books about World War II, The Civil War, and The Revolutionary War. Here, Elliott offers educators and students a variety of resources to enjoy and appreciate history through reading and writing.
---
More about Unlocking the Past
In addition to the resources related to author L.M. Elliott's historical fiction, AdLit's Unlocking the Past materials include a range of resources for both English and Social Studies teachers.
What you'll find here:
Learn how to conduct oral history projects to get student responses like this:
"I definitely ask better questions in general across every subject because drafting questions for the interviews and also coming up with questions as we conduct the interviews, I just kind of think I have a better perspective on questions in general....Hearing, people talking about their hardships or things they've experienced and overcome makes my life seem pretty easy and that, you know, I really do have a lot to appreciate."
---
Five podcasts by author L.M. Elliott
About Under a War-Torn Sky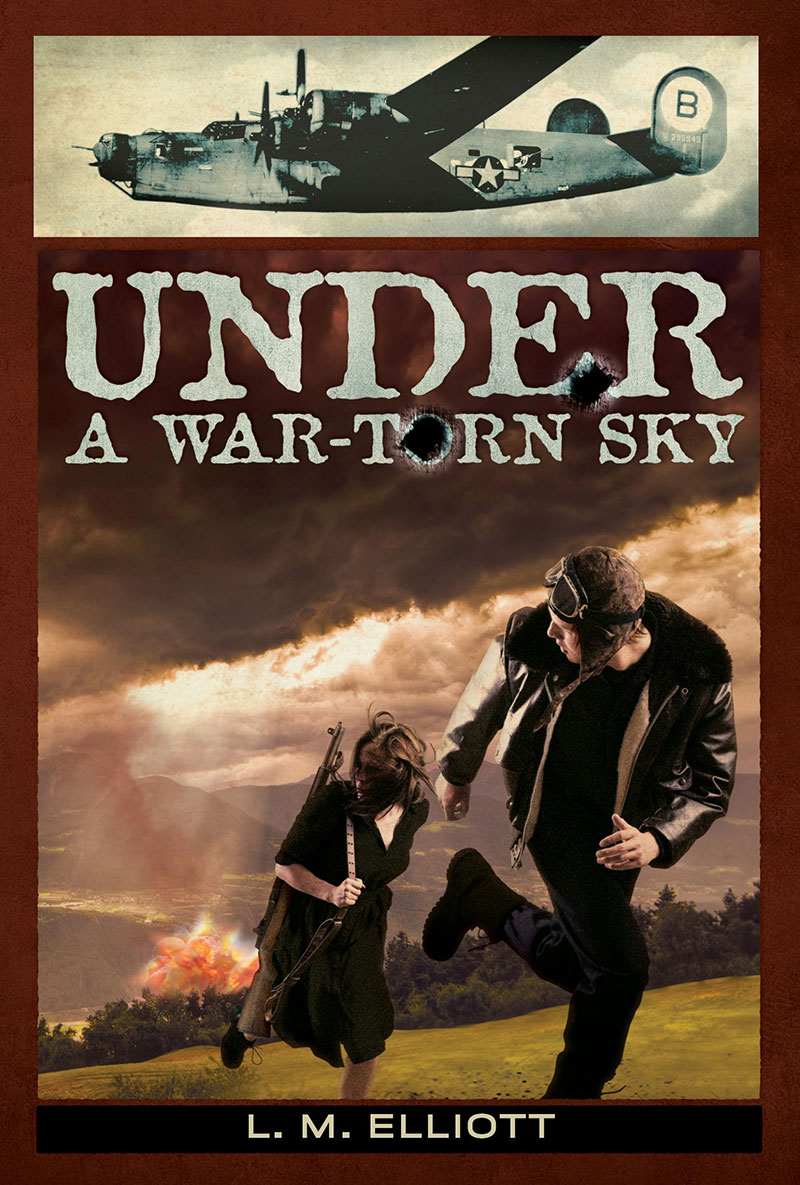 Just 19 years old, Henry Forester is the youngest pilot in his Air Force squadron. Still, he's one of the best fliers, facing Hitler's Luftwaffe in the war-torn skies above France. But when his plane is shot down on a mission behind enemy lines, Henry finds himself on a whole new battleground.
Wounded, hungry, and afraid, he struggles toward freedom on foot, relying on the kindness and cunning of the French Resistance to reach the next town alive. Each day brings him nearer to home and closer to danger.
Yet even as Henry struggles for his own survival in a hostile country, he quickly grows to realize the great peril that surrounds all the French people, and to admire the strength and determination of the freedom fighters who risk death to protect him.
Read chapters 1, 8, and 9 of Under a War-Torn Sky, reading guide, and a suggested lesson plan.
---
About Across a War-Tossed Sea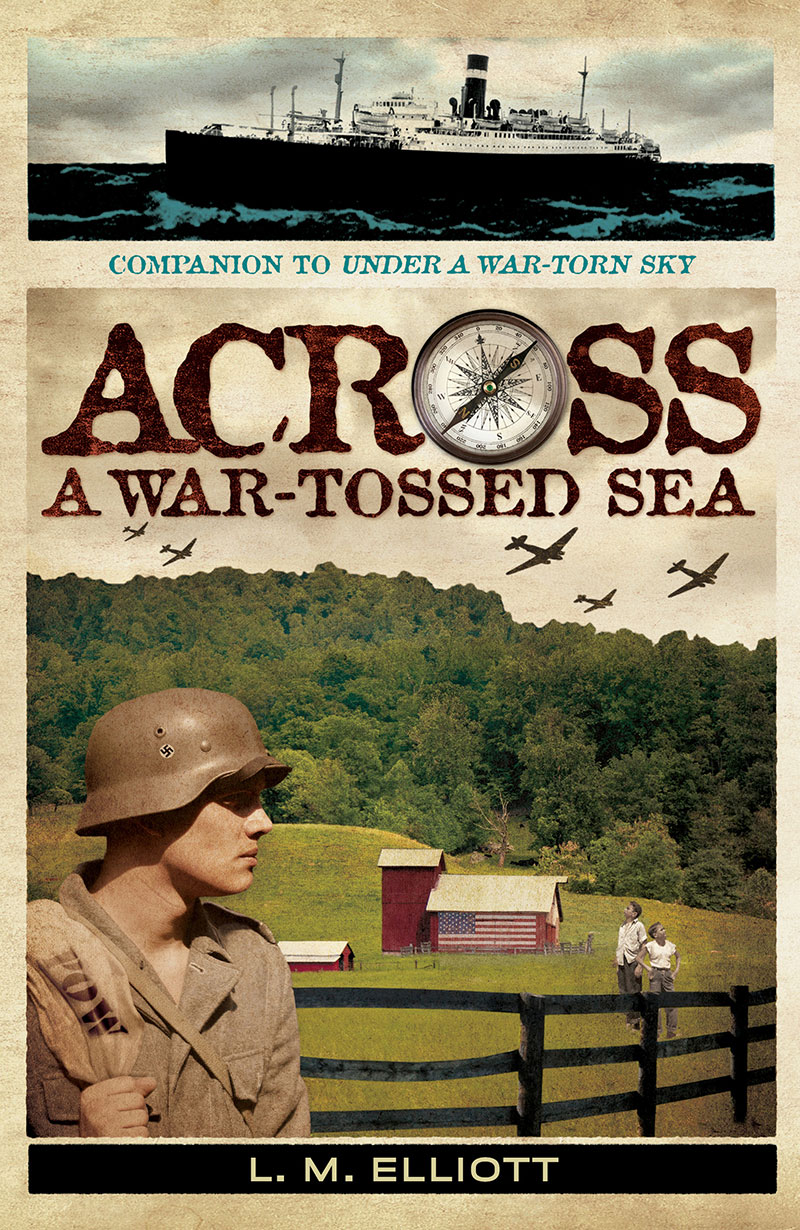 It's 1943, and World War II is raging. To escape the terror of the Blitz, ten-year-old Wesley and fourteen-year-old Charles were evacuated from England to America. After a few near misses with German U-boats and a treacherous ocean crossing, the brothers arrived in Virginia. The culture shock is intense as the London boys adjust to rural farm life and have to learn new sports, customs, and spellings, plus contend with racial segregation and bullying.
As time goes by, the brothers begin to adapt to their new reality and blaze their own trails, writing letters home, making new friends, and pitching in to the American war effort. But just when Wes and Charles think they are safe from the terror of the battles raging thousands of miles across the sea, they encounter the very brand of soldiers they were trying to escape: Nazis, from a POW camp right around the corner and U-boats torpedoing American ships off the nearby Atlantic coastline.
Suddenly, Charles, Wesley, and their new Virginian family must face the dangers of a foreign war coming too close to home.
Download the Educator's Guide.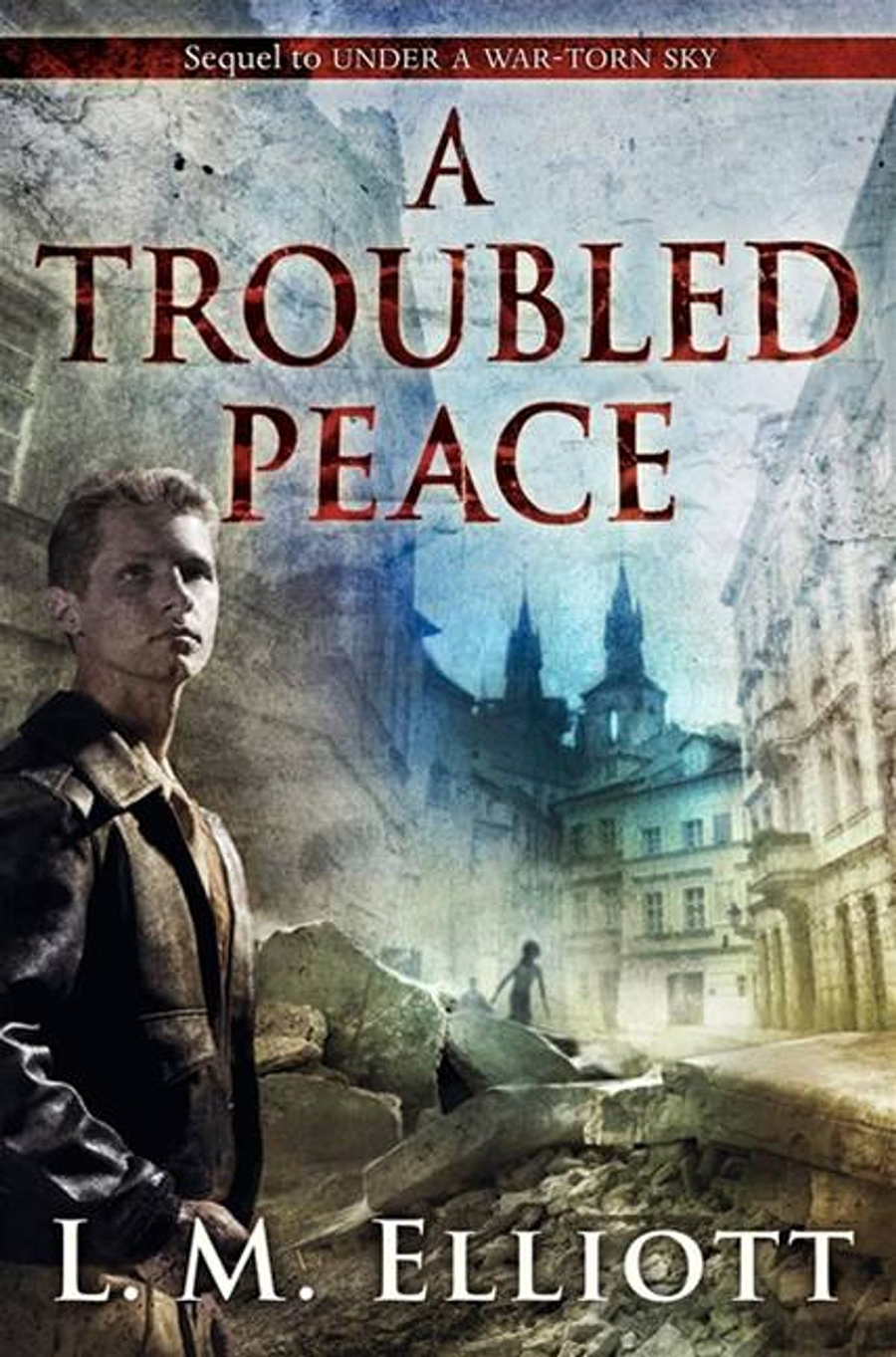 March 1945: World War II may be ending, but for 19-year-old bomber pilot, Henry Forester, the conflict still rages. Shot down over France, Henry endured a dangerous trek to freedom, relying on civilians and Resistance fighters to stay alive. But back home in Virginia, Henry is still reliving air battles with Hitler's Luftwaffe and his torture by the Gestapo. Mostly, Henry can't stop worrying about the safety of those who helped him escape — especially one young French boy, Pierre, who, because of Henry, may have lost everything.
When Henry returns to France to find Pierre, he is stunned by the brutal aftermath of combat: starvation, cities shattered by Allied bombing, and the shocking return of concentration camp survivors. Amidst the rubble of war, Henry must begin a daring search for a lost boy — plus a fight to regain his own internal peace and the trust of the girl he loves.
Read the first four chapters of A Troubled Peace, a reading guide, and a suggested lesson plan.
---
About Annie, Between the States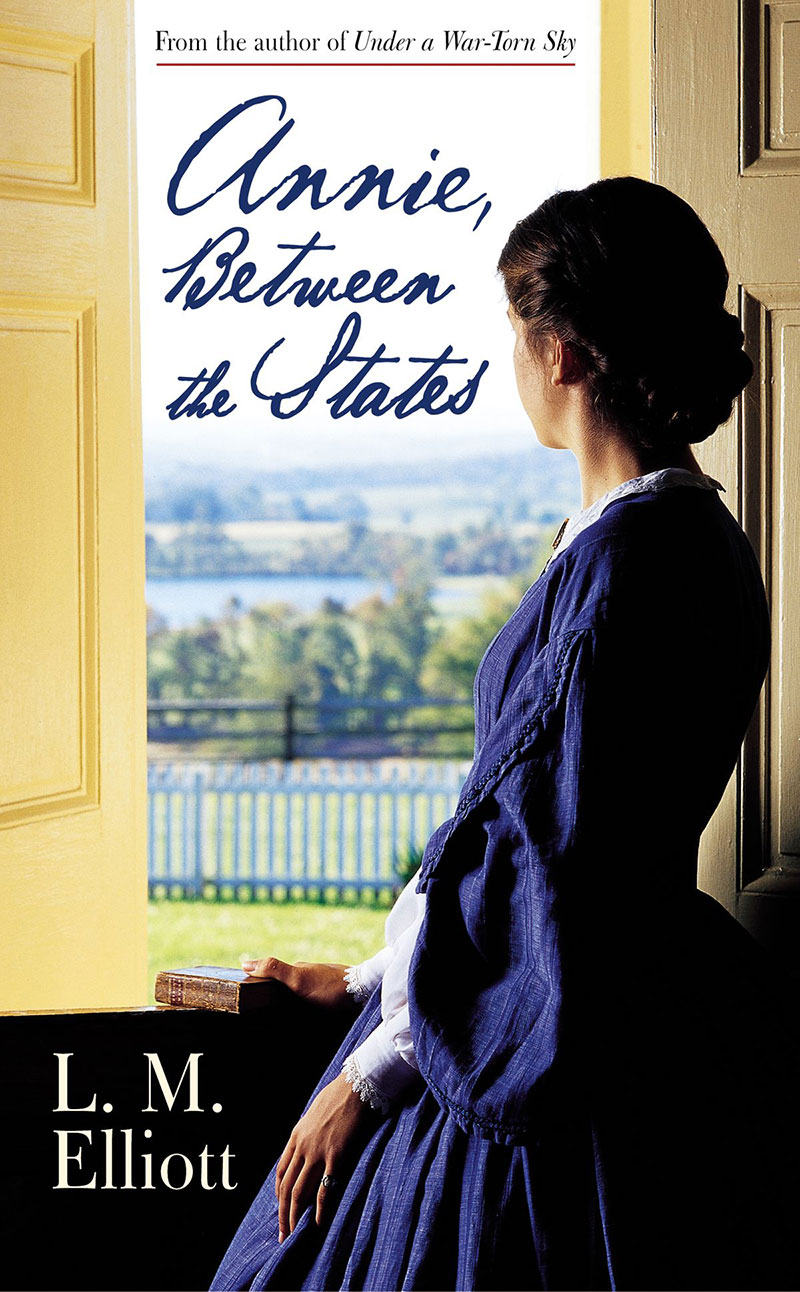 The Civil War has broken out and Annie Sinclair's Virginia home is in the line of battle. Caught up in the rising conflict, Annie and her mother tend to wounded soldiers while Annie's brothers enlist in the Confederate army. Soon Annie takes a riskier role to protect her family and farm: she conceals Confederate soldiers and warns Southern commanders of Union traps
Annie's loyalty is clear until a wounded Union officer is dragged onto her porch. After several chance encounters, Annie is surprised by her growing interest in the dark-eyed Northerner as they connect through a shared passion for poetry. As the war rages on, Annie begins to question some of the values driving Virginia's involvement in the conflict.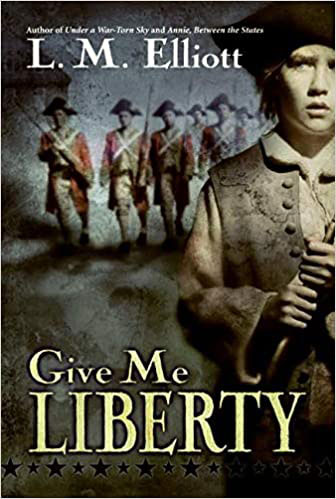 Give Me Liberty explores the Revolutionary ideas and risks colonists faced in their quest for liberty. Thirteen-year-old Nathaniel Dunn is an indentured servant laboring on a tobacco plantation in colonial Virginia. When he is sold in an auction, he is separated from his one friend, a young slave named Moses.
In a twist of luck, Nathaniel meets Basil, a kind, elderly schoolmaster, who brings him to Williamsburg where patriots and loyalists are clashing. An arrangement is struck for Nathaniel to work for an ill-tempered carriage maker loyal to the British in a town increasingly led by patriots such as Thomas Jefferson. The year is 1775. Colonists are enraged by England's taxation. All around Nathaniel, people are joining the struggle for liberty, spurred on by Patrick Henry's impassioned words, "Give me liberty or give me death." Fearful of trouble, Nathaniel avoids taking sides. Gradually, Basil's books and music, plus an apprentice named Ben, open Nathaniel's mind to the idea of equality. When Ben is wounded by British marines in Williamsburg's gunpowder magazine, Nathaniel joins the fight as a fifer in the 2nd Virginia Regiment.
But Nathaniel's belief in the Revolution is marred by the fact Moses is still in bondage. Moses' only chance for liberty is to run away and join the British Royal Ethiopian, a regiment of escaped Virginian slaves. What is the meaning of liberty in a country that depends on slaves and indentured servants?
---
Author L.M. Elliott and her other books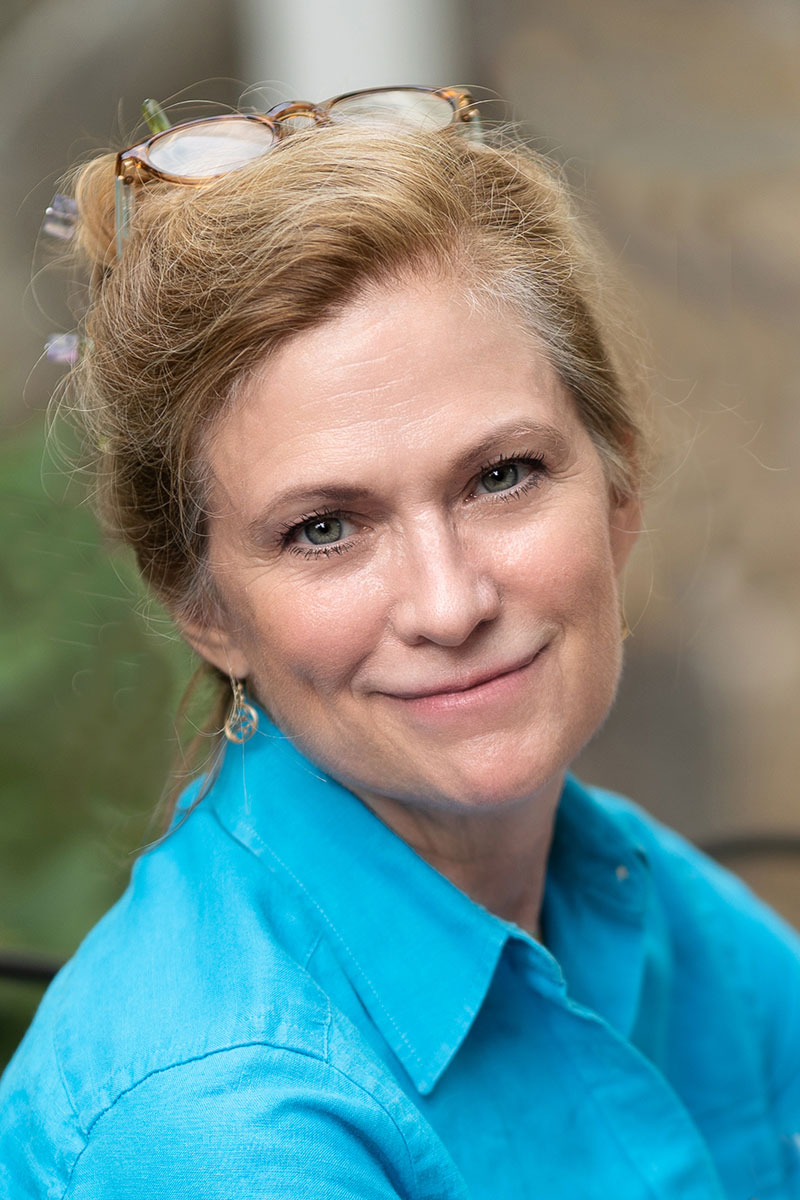 L.M. Elliott is author of the following young adult (YA) historical novels: Under a War-Torn Sky, a Notable Book in Social Studies (NCSS/CBC), a Jefferson Cup Honor Book, winner of Border's Original Voices Award for YA Literature, and a finalist for the Iowa, PA, SC, and MD state teen literature awards; its sequel, A Troubled Peace, also a Notable Book in Social Studies (NCSS/CBC); plus Annie, Between the States, a New York Public Library Book for the Teen Age, IRA Teachers' choice, and VA Readers' Choice finalist; Give Me Liberty; and Flying South, winner of the Joan G. Sugarman Children's Literature Award.
A long-time writer for the Washingtonian magazine, Elliott was twice a finalist for the National Magazine Award and recipient of numerous Dateline awards. She wrote often on children, women's issues, and health. Elliott graduated from Wake Forest University and holds a masters in journalism from the University of North Carolina. Elliott lives in Northern Virginia with her husband, two children, and their herd of pets.
Visit L.M. Elliott's website  for more details about her life and writing.
---
Our video interview with L.M. Elliott