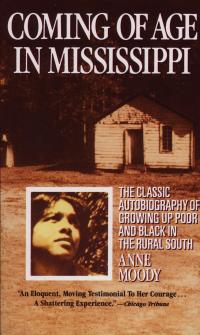 Coming of Age in Mississippi: The Classic Autobiography of Growing Up Poor and Black in the Rural South
Born to a poor couple who were tenant farmers on a plantation in Mississippi, Anne Moody lived through some of the most dangerous days of the pre-civil rights era in the South. The week before she began high school came the news of Emmet Till's lynching. In that moment was born the passion for freedom and justice that would change her life. A straight-A student who realized her dream of going to college when she won a basketball scholarship, she finally dared to join the NAACP in her junior year. Through the NAACP and later through CORE and SNCC, she experienced firsthand the demonstrations and sit-ins that were the mainstay of the civil rights movement—and the arrests and jailings, the shotguns, fire hoses, police dogs, billy clubs, and deadly force that were used to destroy it.
A deeply personal story but also a portrait of a turning point in our nation's destiny, this autobiography lets us see history in the making, through the eyes of one of the footsoldiers in the civil rights movement.
Find This Book