Together my students and I were celebrating the culmination of our Tasting History Project . Over the weeks prior, my students had facetimed with grandfathers in Brazil, texted aunts in Vietnam to collect favorite family recipes, and talked through recipes with families here in Lowell, MA.
They had typed and edited those recipes, which oftentimes necessitated further phone calls to confirm timing or quantities ("cook until done," a student wrote. "When do I know it's done?" I would ask). They had reflected on their memories of that dish — of afternoons spent picking lemons with great-grandparents in Brazil, of exploring parks in Japan with grandparents, of rainy days eating with cousins in Afghanistan, and of afternoons filled with friends in the Dominican Republic. 
And they had shared stories of migration, of first experiences in the United States, and of creating homes here. Now, together in our classroom — the desks bearing plates of Japanese onigiri, Brazilian coxinha, and Pakistani biriyani — my students were sharing their food, sharing a piece of their history, their story with their classmates.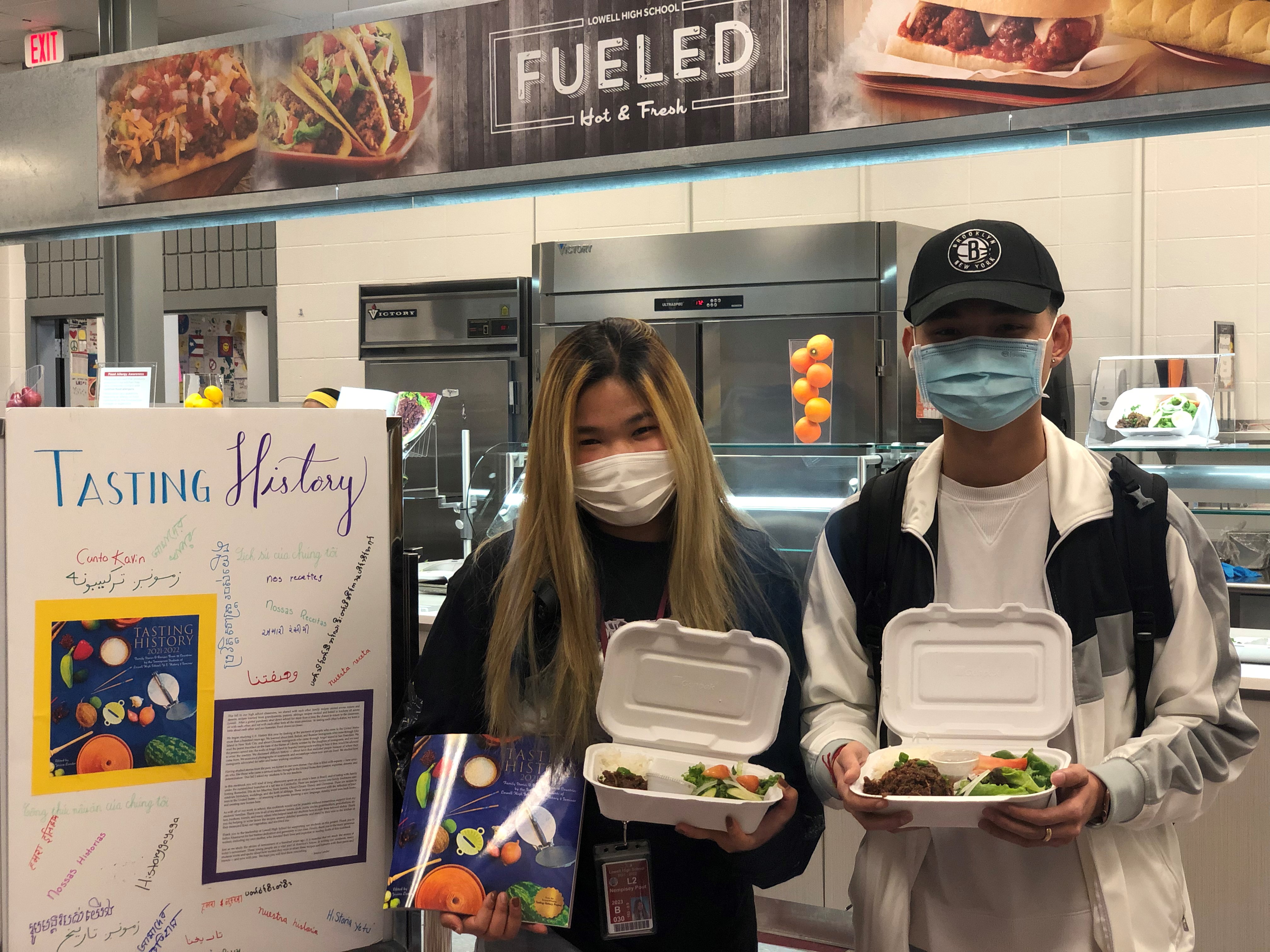 Centering Student's History
I have the honor of teaching high school history and civics to recent immigrant and refugee students from around the globe. The Tasting History Project is the culmination of our study of immigration from the late 1800s and early 1900s. We begin our study by reflecting on Emma Lazarus's poem at the base of the Statue of Liberty. We read the poems written by immigrants and carved into the walls of Angel Island in San Francisco. We study laws that attempted to exclude — the Chinese Exclusion Act, the Johnson Reed Immigration Act; and we discuss how those laws were ultimately overturned, allowing America to welcome immigrants once more.
When, years earlier, I began crafting this unit on 19th century immigration I was struck by all the lessons and activities I found that started with some version of "Imagine you had to leave your home?" "Imagine you were coming to a new country…"My students don't have to imagine. My students are experts.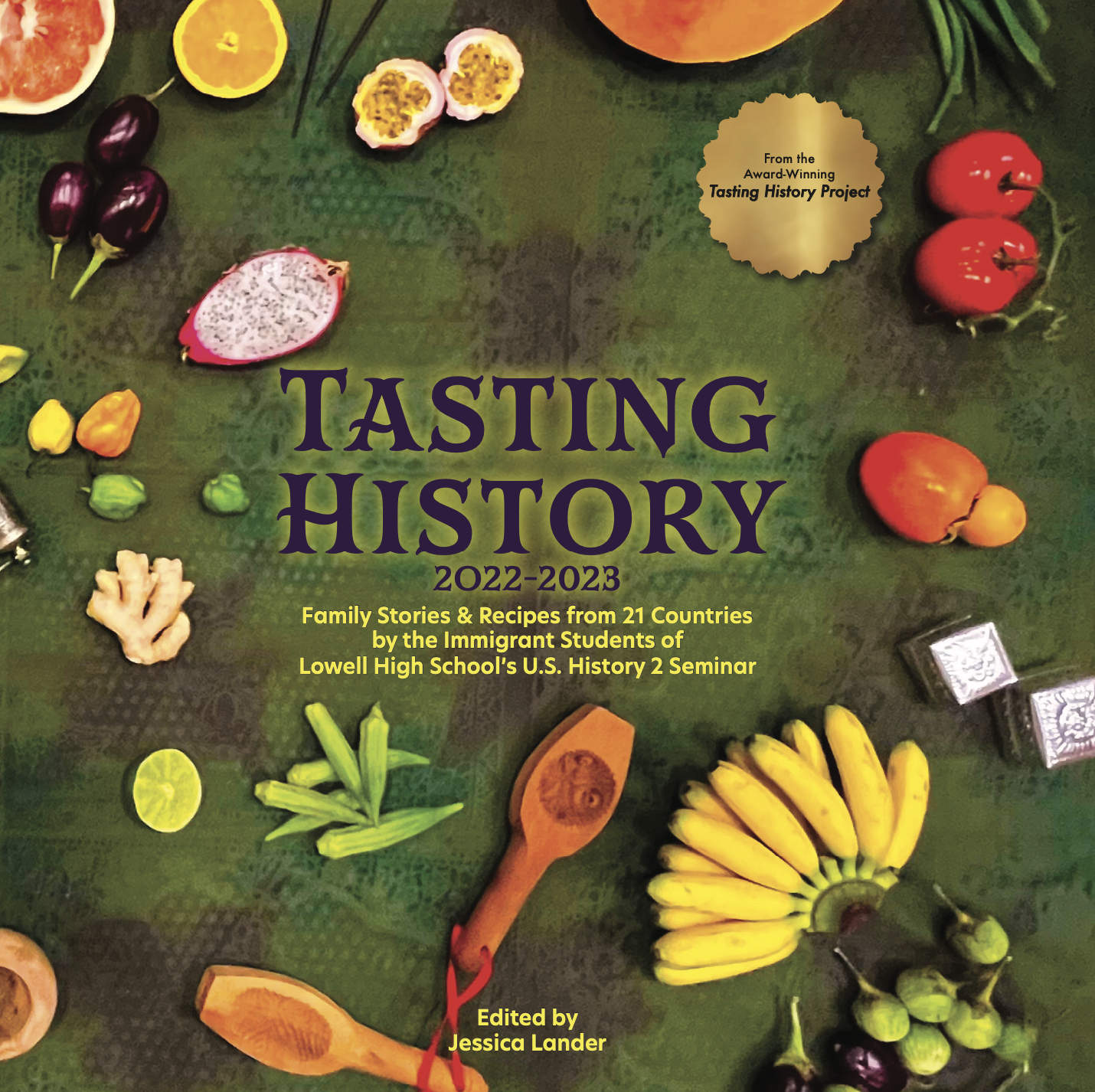 The Tasting History  Project became our bridge, connecting the past to the present, centering my students' stories of migration, global traditions, and cultures, as an essential part of the story of the United States. The project also centers the expertise of my students' families. I might be my students' teacher in school, but their families are their first and most important teachers. I want my students to know that their families' knowledge and expertise are valued in our classroom.
Students as Teachers
As my students share their stories and recipes in the community they step into the role of teachers in our community. In my class I watch as students learn from each other: two boys from Brazil discovered they loved Congolese mandazi donuts. A Cambodian student gobbled up Honduran arroz con leche. Over heaping plates, they share stories of their family and of their histories.
In the cafeteria of our school I watch as my students have become teachers for their peers. Last year our class began a partnership with the district's food services. Each month the class collaborated with the district's executive chef to adapt one family recipe to be served in our city's public school cafeterias. Across the spring 14,000 students were able to taste family recipes from Cambodia, Colombia, Somaliland, Guatemala, Bangladesh.
As one former student shared with me, "At school, I didn't see any kind of representation [of my culture]." No one dressed like his mother had, he told me, no one cooked the stews like his aunt. "You feel like there's no space for [your culture]." But, he explained, the Tasting History project provided him an opportunity to share and be seen, "somebody is learning about your culture, they want to know more. It makes you feel like your culture contributes something to a larger community."
And excitingly, this spring, my students' histories and stories will now be studied in the classrooms of others elementary school students across our district will be reading my students' words and histories as part of their social studies class learning about the history of our city.