About the book
High on the side of rocky Mount Eskel, far from the valleys where gardens are green and lush, where lowlanders make laws, Miri's family has lived forever, pounding a living from the stone of the mountain itself. For as long as she can remember, Miri has dreamed of working alongside the other villagers in the quarries of her beloved mountainside. But Miri has never been allowed to work there, perhaps, she thinks, because she is so small.
Then word comes from the valley that the king's priests have divined Mount Eskel to be the home of the prince's bride-to-be-the next princess. The prince himself will travel to the village to choose her, but first all eligible girls must attend a makeshift mountain academy to prepare themselves for royal lowlander life.
At the school, Miri soon finds herself confronted by bitter competition among the girls and her own conflicting desires to be chosen by the prince. Yet when danger comes to the academy and threatens all their lives, it is Miri, named for a tiny mountain flower, who must find a way to save her classmates-and the one chance to leave the mountain each of them is determined to secure as her own.
From acclaimed author Shannon Hale comes the Newbery Honor-winning novel about would-be princesses and one small but determined girl's destiny.
---
About the Author
Shannon Hale was a storyteller from birth. At age 10, she began to write books, mostly fantasy stories where she was the heroine. Hale continued to write secretly for years while pursuing acting in television, stage, and improv comedy. After detours studying in Mexico, the UK, and a year and a half as an unpaid missionary in Paraguay, Shannon earned a bachelor's degree in English from the University of Utah. She was finally forced out of the writers' closet when she received her Masters in Creative Writing from the University of Montana.
The Goose Girl, her critically acclaimed first book, is an ALA Teens' Top Ten and Josette Frank Award winner. Enna Burning, River Secrets, and Forest Born are companion books to Goose Girl, continuing the Bayern books series. Princess Academy is a Newbery Honor Book and a New York Times best seller. She and her husband Dean co-wrote the graphic novel Rapunzel's Revenge, which was selected by Today's Al Roker for Al's Book Club for Kids.
For more information about the author, watch our video interview with Shannon Hale.
Discussion Questions
Miri's father tells her that her mother named her "after the flower that conquered rock and climbed to face the sun" (page 14). Do you know why your parents chose your name? Does your name have a special meaning to you and your family?
The people of Mount Eskel use a kind of telepathy to communicate with one another in the quarry. Miri learns that the "quarry-speech" works by sharing memories through the rock of the mountain itself and can be used to communicate in many ways besides warnings or instructions in the quarry. Have you ever imagined a secret way to communicate with your friends and family? How might it work?
Miri makes a dramatic difference in the life of her village by sharing what she has learned at the academy about commerce. Have you ever had an idea that you thought might make a difference? Describe one change you would like to make in your community that could have a positive influence on people's lives.
At a critical moment in the mountain girls' training at the Princess Academy, they must all pass an oral test in order to attend the ball with the prince. At one moment, Miri notices Gerti struggling to answer a question. Convinced it would be unfair for the girls to be banned from the dance if they can't pass the test, Miri finds a way to help Gerti find the answer through quarry-speech. Do you think Miri did the right thing or not? Why?
Miri treasures the carved linder hawk that Peder gave her when they were small. In a fateful twist, she uses it to help her escape from the bandit Dan, and she loses it as it falls down the mountain. What do you think the hawk means to Miri, and to Peder? What does you think is the symbolic significance of the hawk?
Many of the characters in Princess Academy learn to look past the masks that people wear. Which of the characters wore a mask that hid their true feelings, and what was their motivation for doing so?
Shannon Hale spends a great deal of time describing the natural world that surrounds Miri, and she vividly expresses how Miri feels about the mountains, flowers, snow, and rock that make up her world. Take a moment to think about your favorite place. How does it look and smell? How do you feel when you are in this place?
At the end of the novel we learn that Tutor Olana was intentionally cruel and even lied to the girls in order to motivate them to learn. Do you think this was a wise choice on her part? What might have been different in the story had she been friendly and encouraging?
Were you surprised when you learned about Britta's secret? How did you feel when she was chosen by Prince Steffan to be his bride?
Does Princess Academy remind you of any other novels you have read? If so, which ones and why? If not, what makes it unique?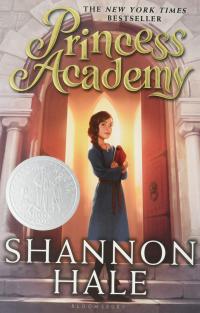 Fairy Tales, Folktales and Myths
,
Fantasy
,
Fiction