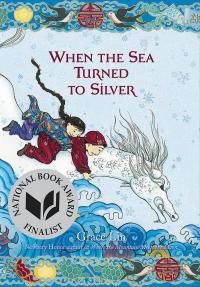 When the Sea Turned to Silver
Pinmei's gentle, loving grandmother always has the most thrilling tales for her granddaughter and the other villagers. However, the peace is shattered one night when soldiers of the Emperor arrive and kidnap the storyteller. Everyone knows that the Emperor wants something called the Luminous Stone That Lights the Night. Determined to have her grandmother returned, Pinmei embarks on a journey to find the Luminous Stone alongside her friend Yishan, a mysterious boy who seems to have his own secrets to hide. Together, the two must face obstacles usually found only in legends to find the Luminous Stone and save Pinmei's grandmother — before it's too late.
A fast-paced adventure with stunning illustrations, When the Sea Turned to Silver is a masterpiece companion novel to Where the Mountain Meets the Moon and Starry River of the Sky. Finalist for National Book Award.
Find This Book