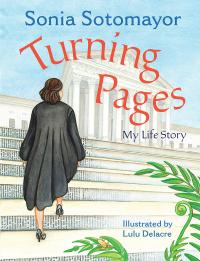 Turning Pages: My Life Story
As the first Latina Supreme Court Justice, Sonia Sotomayor has inspired young people around the world to reach for their dreams. But what inspired her? For young Sonia, the answer was books! They were her mirrors, her maps, her friends, and her teachers. They helped her to connect with her family in New York and in Puerto Rico, to deal with her diabetes diagnosis, to cope with her father's death, to uncover the secrets of the world, and to dream of a future for herself in which anything was possible.

Justice Sotomayor shares that love of books with a new generation of readers, and inspires them to read and puzzle and dream for themselves. 
 
Find This Book