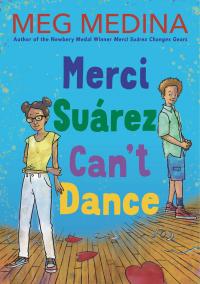 Merci Suárez Can't Dance
In Meg Medina's follow-up to her Newbery Medal–winning novel, Merci takes on seventh grade, with all its travails of friendship, family, love — and finding your rhythm. Seventh grade is going to be a real trial for Merci Suárez. And she's tangling again with classmate Edna Santos, who is bossier and more obnoxious than ever now that she is in charge of the annual Heart Ball.

One thing is for sure, though: Merci Suárez can't dance — not at the Heart Ball or anywhere else. She used to talk about everything with her grandfather, Lolo, but with his Alzheimer's getting worse each day, whom can she trust to help her make sense of all the new things happening in her life? The Suárez family is back in a touching, funny story about growing up and discovering love's many forms, including how we learn to love and believe in ourselves.
Find This Book