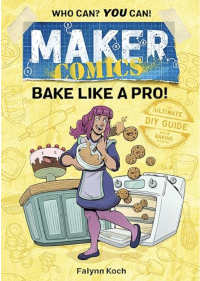 Maker Comics: Bake Like a Pro!
Today is the first day of Sage's magical internship! Her fellow wizards-in-training get to study pyromancy and transfiguration, but Sage has been assigned an internship in…baking? She doesn't think that sounds fun, or particularly magical! But her instructor, Korian, insists that baking is a tasty form of alchemy. In an enchanted kitchen where the ingredients insist that you eat them, Sage learns the simple science behind baking―and that's the best kind of magic trick!

In Bake Like a Pro!, you'll learn how different combination of proteins, fats, and liquids will result in textures that lend themselves to perfect pies, breads, cookies, and more! Follow these simple recipes, and you'll be able to bake a pizza and frost a cake―no magic necessary!
 
Find This Book