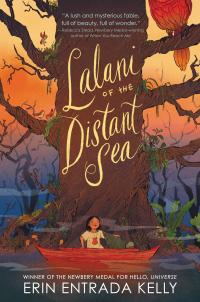 Lalani of the Distant Sea
When Lalani Sarita's mother falls gravely ill, twelve-year-old Lalani faces an impossible task — she must leave her island of Sanlagita and find the riches of the legendary Mount Isa, which towers on an island to the north. But generations of men and boys have died on the same quest — how can an ordinary girl survive the epic tests of the archipelago? And how will she manage without Veyda, her best friend?
Newbery Medalist and New York Times-bestselling author Erin Entrada Kelly's debut fantasy novel is inspired by Filipino folklore and is an unforgettable coming-of-age story about friendship, courage, and identity. ALSC Notable Books.
Find This Book