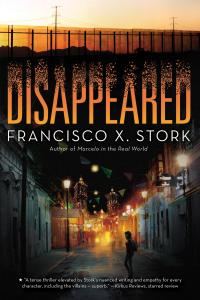 Disappeared
Four months ago…Sara Zapata's best friend disappeared, kidnapped by the web of criminals who terrorize Juárez.
Four hours ago…Sara received a death threat — and with it, a clue to the place where her friend is locked away.
Four weeks ago…Emiliano Zapata fell in love with Perla Rubi, who will never be his so long as he's poor.
Four minutes ago…Emiliano got the chance to make more money than he ever dreamed — just by joining the web.
In the next four days, Sara and Emiliano will each face impossible choices, between life and justice, friends and family, truth and love. But when the criminals come after Sara, only one path remains for both siblings: the way across the desert to the United States.Award-winning author Francisco X. Stork delivers his most gripping novel yet in this tense and timely international thriller.
Find This Book