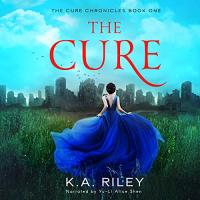 The Cure
Before the Blight, becoming an adult was something teenagers looked forward to. But now, turning eighteen means certain death. Unless you prove yourself worthy of the Cure.

On her seventeenth birthday, Ashen Spencer is blindfolded and escorted to the massive, mysterious building known as the Arc to begin her year of training and testing in hopes that she can earn the Cure—a powerful drug given only to those deemed worthy to survive beyond their eighteenth birthday.
Ashen has a chance to rise up from her former life of squalor and be granted a place in society, if the Panel—the mysterious group of powerful men and women in charge of the Arc—deems her year a success. She's assigned to work for twelve months as a servant for a wealthy family whose son is the most alluring young man she's ever met. At first, Ashen is grateful for the opportunity to earn her place in a society she's always dreamed of inhabiting.

But as time passes and she begins to learn the truth about the people she admires so much and the home she left behind, she realizes she has a choice: Be part of the disease…Or be part of the Cure.
Find This Book