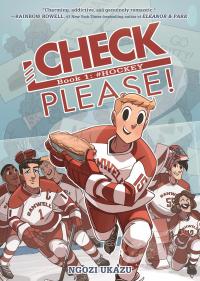 Check, Please! Book #1: Hockey
Eric Bittle may be a former junior figure skating champion, vlogger extraordinaire, and very talented amateur pâtissier, but being a freshman on the Samwell University hockey team is a whole new challenge. It is nothing like co-ed club hockey back in Georgia! First of all? There's checking (anything that hinders the player with possession of the puck, ranging from a stick check all the way to a physical sweep). And then, there is Jack — his very attractive but moody captain. A collection of the megapopular webcomic series of the same name, Check, Please!: #1 Hockey is the first book of a hilarious and stirring two-volume coming-of-age story about hockey, bros, and trying to find yourself during the best four years of your life. This book includes updated art and a hilarious, curated selection of Bitty's beloved tweets. Winner of the William C. Morris Debut YA Award.
See more from Ngozi Ukazu in this blog post featuring Gene Luen Yang's interview with her!
Find This Book