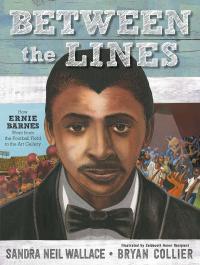 Between the Lines: How Ernie Barnes Went from the Football Field to the Art Gallery
Ernie Barnes was an NFL football player who longed to make art. Finally his dream came true. When Ernie Barnes was growing up in North Carolina in the 1940s, he loved to draw. But in the segregated south, Ernie didn't know how to make a living as an artist. Ernie grew tall and athletic and became a football star. Still, in his heart Ernie longed to paint. 

Ernie Barnes was one of the most important artists of his time known for his style of elongation and movement. His work has influenced a generation of painters and illustrators and can be found in museums and collections, such as the African American Museum in Philadelphia and the California African American Museum.
 
Find This Book