School Matters
Karin Chenoweth is writer-in-residence at The Education Trust, a national education advocacy organization, and author of It's Being Done and HOW It's Being Done and co-author of Getting It Done, all published by Harvard Education Press. Her columns originally appear on The Huffington Post.
February 22, 2017
On one of her first days on the job, Betsy DeVos did what any U.S. Secretary of Education might do: She visited a public school.
Such an event might have gone relatively unnoticed if not for widespread worries that she neither understands public schools nor appreciates their central importance in building a civic community.
So, good for her.
She needs to see how public schools can be a beacon to the community — a metaphorical city on a hill, so-to-speak.
That is why I hope she is strategic and chooses to visit schools and districts that demonstrate how powerful public schools can be in the lives of their students — places that have marshaled the full power of schools as institutions to ensure that students learn a great deal.
In my work at The Education Trust, I have visited many schools — some of which have been recognized by Ed Trust as Dispelling the Myth schools — that demonstrate there is a great deal that can be done to overcome the obstacles of poverty and discrimination.
George Hall Elementary School, for example, has long been a shining city on a hill. Serving an isolated, low-income African American neighborhood in Mobile, Ala., for many years, it was one of the highest performing schools in Alabama. Following large changes in staff and in school boundaries, cuts in funding and changes in assessments, it is working to get back to its previous level; but, it was recognized recently as a National Title I Distinguished School, and the thoughtful way the principal and teachers think about continually improving is worth learning from.
A couple of hours west along the Gulf Coast is Pass Christian, Miss., which demonstrates what can happen when a community pulls together around its schools. Directly in the line of Hurricane Katrina, Pass Christian was almost destroyed in 2005. Only one school, its most inland, survived. Until the other three schools could be rebuilt or repaired, teachers and children whose homes had been destroyed spent their days in trailers parked in deep mud teaching and learning. Pass Christian educators like to say the experience made them even stronger. With a student population that is 30 percent African American as well as small numbers of students who are Asian and Hispanic, Pass Christian is an integrated school district with a significant population of students from low-income homes. If it were a low-performing district, no one would be surprised. But Pass Christian School District is one of the highest achieving school districts in the state, graduating almost as many students as much wealthier districts and sending many of them off to two- and four-year colleges and technical schools. Pass Christian is an example of a school district that has built relationships and competence, all in the spirit of being, as its slogan has it, "Committed to Excellence."
For an example of a school that has absorbed large numbers of new immigrant students with aplomb, go to little De Queen Elementary School in Arkansas, which has been one of the top-performing schools in Arkansas for years. When its principal, Terriann Phillips, first started as a teacher, De Queen had one Hispanic student. Today, about two-thirds of the students are Hispanic, their families having been drawn there by jobs in the local poultry processing plant. With a careful approach to reading instruction and a dedication to ensuring that their students learn to be what they call "arguers," students at De Queen are being prepared to be our future fellow citizens.
In the heart of the Rust Belt, Steubenville, Ohio's elementary students (almost all of whom qualify for free and reduced-price lunch) have led the state in both reading and math for years — a testament to the systematic, coherent work the district has done to ensure that teachers work together to improve instruction for all students. And it is working on translating that success in the earlier grades into comparable success in the secondary grades. It isn't there yet, but teachers, principals, and staff are determined to ensure that their students have the greatest possible opportunities for success as adults.
One of the schools I have visited most recently is Malverne High School, which serves two back-to-back towns in western Nassau County on New York's Long Island. One town is primarily White; the other primarily African American, but with a number of new immigrants from the Caribbean, Africa, and Latin America. Back in the 1990s, it hit a low point with graduation rates below 40 percent, and almost all the White families abandoned the school. Thanks to school and district leaders who knew how to systematically build relationships and improve instruction, it now graduates more than 90 percent of its students, more than half of whom earn an advanced designation. Its success has been noticed by the local community, too. It has been attracting White families back from private and parochial schools, and now about 20 percent of its students are White.
Malverne High School — really, all the schools I have mentioned and many more — demonstrate the power that school and district leaders, working together with teachers, have to ensure that all their students achieve at high levels and become productive citizens.
I hope our new secretary of education sees that and finds ways to support their work.
Strong public schools are at the heart of the American experiment in democracy; our forebears thought of public schools as being the way we transmit both knowledge and democratic values.
We need to demand that all schools operate at a high level, but we must also recognize what a precious investment they represent and support all our schools so that they, too, can get better and better.
no comments | Comment on this post | Permalink
October 17, 2016
A well-designed summer program can help low-income students read and do math better. In fact, attending a summer program regularly for as little as five weeks for two years in a row could result in about a quarter of a year's gain in both reading and math for students from low-income families.
That is the rather surprising finding of a new study of summer programs in several cities, and it provides powerful evidence for those who have argued that students from low-income homes should be provided with more instructional time.
The evaluation, by the Rand Corporation, is part of a multi-year exploration of whether summer programs are one way to stem the "summer slide," which has been found to be a key element of achievement gaps between students from high-income families and those from low-income families.
In 2011 the New York-based Wallace Foundation funded a large experiment to see if summer programs could make a difference — providing programs for more than 3,000 students from low-income families in Boston; Dallas; Duval County, Florida; Pittsburgh; and Rochester, New York — and hired Rand to assess the effects.
Comparing the results against control groups of students, Rand found that students who regularly attended two years of the summer programs gained almost a quarter of a year in reading and math. One reason the results are surprising is that when Rand issued its evaluation of the first year's results (last year), it found a smaller effect in math and none in reading.
The larger effects this year could be because the students had a second year of summer programs or because the programs themselves improved from one year to another. The study wasn't able to identify which explanation is more likely, but it will continue to study the effects of summer programs for the next few years and may be able to answer those kinds of questions in the future
In any case, key to academic gains in summer programs are steady attendance — at least 20 days but preferably more — and a high-quality program with engaging, fun activities for school children and highly effective teachers teaching for at least three hours a day.
For a quick summary of the findings, go here. And for the full report from The Wallace Foundation, go here.
1 comment | Comment on this post | Permalink
May 19, 2016
In which I continue my quest to find out how expert educators are viewing the new assessments their students are taking. Today, I report on Artesia High School, where students recently took the Smarter Balanced assessment for the second time. For the past three weeks, I have been writing about Artesia's improvement. Read Artesia's story and see how changes to school culture and instruction have helped bring about measurable improvements.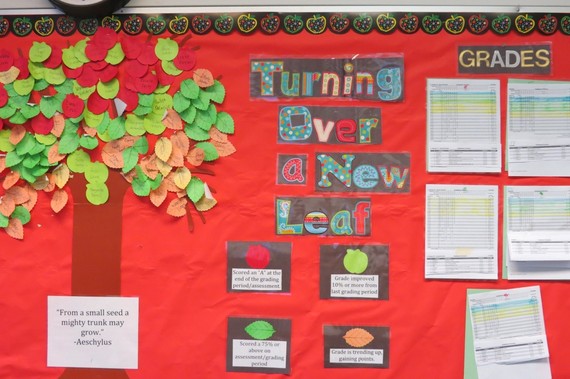 Most of Artesia's classes have a "data wall" to celebrate high achievement and improvement.
Until last year, high school students in California took a lot of tests. They took end-of-course tests in math, reading, writing, science, and history, which measured whether they had learned what they were supposed to in these classes. Then they took culminating high school graduation tests in reading, writing, and math, which gauged whether they were ready to graduate.
Each test was an opportunity for students to see whether they were learning what they were supposed to learn — and for teachers to see how well they were teaching what students were supposed to learn.
Teachers could see that their teaching was stronger in some topics than others and — in schools where such information was shared — they could see which of their colleagues they should be learning from. That's because they received student-by-student reports with item analyses. The old tests, in other words, provided a lot of information that was useful not just to students and their families but to teachers and their schools.
But last year, all that testing was reduced to just one state science test in 10th grade and two tests in 11th grade, one in English language arts and one in math. The 11th-grade tests were developed by Smarter Balanced, one among the "new generation" of tests, designed to see if students are mastering the knowledge and skills outlined in Common Core State Standards.
Smarter Balanced is administered to students from third through eighth grade, and then not again until their junior year of high school when, if they score at "proficient or above," they are considered to be good candidates for credit-bearing classes in college or career and technical training. In fact, more than 200 colleges — many in California — have agreed that if students score proficient or above they will immediately be enrolled in credit-bearing classes.
To those worried about students taking too many tests, this was probably a welcome move. But for educators who used the old tests to see how they and their students were doing, and to set targets for improvement, the change has been a bit of a blow.
"It's like flying blind," said Sergio Garcia, principal of Artesia High School in the ABC Unified District in Los Angeles County.
Over the past 12 years, Garcia has led remarkable improvement at Artesia High School, where 75 percent of the students qualify for free and reduced-price meals, and most of the students are Hispanic. Last year, 97 percent of students graduated, with most going on to college. This year, the goal is for 100 percent of students to at least apply to college.
Key to the process of helping teachers work together to improve instruction was information from the state tests, which helped identify which students really understood the Pythagorean Theorem and which needed help; which students wrote coherent essays and which didn't, and who their teachers were. Being able to expose and learn from expertise was important to the improvement at the school, Garcia said. "We were not shaming. We were not blaming. We were using [data] for growth."
Smarter Balanced doesn't report that level of detail. Right now it only reports on students' overall scores and achievement level, which doesn't give teachers nearly the amount of information they used to have.
Another of Garcia's concerns is, "How do you make sure everyone is teaching what they're supposed to be teaching?" He worries that without the kind of consistent, clear information they used to get, teachers will naturally revert back to teaching what they prefer to teach rather than teaching what students need to learn.
This is only the second year of Smarter Balanced, and Garcia hopes that as the test matures schools will receive more extensive information about how students are doing on different questions and on different topics. Also, as time goes on, schools will be able to see trends, which will provide additional information on whether what they are doing is working.
"If you look at our baseline data from last year, it's not impressive," Garcia said, adding that he is often told how well Artesia did because it matched the state in math and exceeded it in English language arts. "I'm not impressed."
However, he predicted, "This year you'll see a jump." It will be what he calls a "logistical improvement," because the school is adjusting many of the test-taking logistics. For example, students took both ELA and math tests on the same day last year. "They were tired. This year we're not doing that." Now, the right equipment is in place in the right places and students have seen practice questions, all of which will give the school a bump, Garcia thinks.
But, Garcia said, the "real results will come next year. That's when you'll see what we're made of. Kids will have been taught to Common Core standards for two years, and should have the right preparation."
But he's still hoping for more information.
no comments | Comment on this post | Permalink
May 13, 2016
For the past two weeks, I have been writing about a high-poverty high school that has improved tremendously over the last 12 years. Today, I report on one aspect of that improvement: the quality of instruction.
When Sergio Garcia became principal of Artesia High School in Los Angeles County, the fact that it was summer gave him the opportunity to take advantage of one of the biggest levers of change available to a principal: creating the master schedule.
"We had very few students taking algebra," he said. Most students, he said, were taking pre-algebra or consumer math. "And they were failing."
So the first thing he did was put 1,300 students who had been scheduled for "basic math" into Algebra I. When returning math teachers found out, they assumed that Algebra I would be spread out over two years. No, Garcia told them. One year. He wanted his students to be able to go on to higher math. If they were to have any chance at all of going to college, they had to take the math classes that would get them there.
"I can't be at a school that perpetuates the idea that these kids will be poor the rest of their lives," Garcia said, basically agreeing with the argument that unless students succeed in algebra their opportunities would be foreshortened.
He put some of the students - those with lower math scores - into a second math support class, thus "double-blocking" them. But they were all in Algebra 1. "And they were mostly successful," Garcia said. That is to say, test scores went up and failure rates went down.
Stephanie Palutzke, a special education math teacher who arrived a couple of years into Garcia's tenure and said she was shocked to find that she would be teaching Algebra I to students with disabilities. "I can't teach a pre-algebra class?" she remembers asking Garcia. "Algebra is too hard for my students." At other schools, she said, she had taught consumer math. Garcia told her no.
Despite her misgivings, Palutzke, who is now one of the school's union representatives, said, "We found a way to teach algebra and [the students] passed the high school test."
Indeed, in 2015, 58 percent of the students with disabilities passed the math part of the high school graduation exam (CAHSEE) as 10th-graders. Students have multiple opportunities to repeat the exam, and 91 percent of Artesia's students with disabilities graduated in 2014 — the latest year for which data is available. In California, only 62 percent of students with disabilities graduated that year.
That first schedule change was only the beginning of a series of instructional changes, all of which were aimed at expanding opportunities for students.
"We have a formula, said Carlos Guzman, the chair of the foreign language department: "High expectations + opportunities = success."
Artesia's "secret weapon" in improving instruction, Garcia said, is Dennis Parker, who was once an official with the California Department of Education and now consults with schools around the state. He had consulted at each of Garcia's previous schools, and Garcia also brought him to Artesia. Parker observes classrooms and leads workshops for teachers to help them improve instruction, always urging them to ensure that they are providing the "maximum number of interactions per minute with complex knowledge" in order to create the "aha" moments that lead to new learning.
Parker's basic improvement strategy is that at the classroom and school levels, clear targets need to be set, clear feedback mechanisms need to be in place, and teacher know-how needs to be developed. When those things are all working together in ways that take into account the individual classroom and school context, they spiral together to keep improvement going, Parker says.
"Educators are less likely to oppose this kind of change, as it is helping them learn to be more effective with their students, not mandating them to follow a new regimen," is Parker's view.
He helps teachers set ambitious academic targets for their students and develop careful feedback mechanisms. Every classroom at Artesia has a data wall where students chart their progress on quizzes, tests, and assignments, and a space on that wall for students to add their names to those of others who are either scoring high or who have improved their performance. By having those two criteria, the school is providing "safety in numbers," Parker says, and building success into the culture.
"There are a lot of visuals that celebrate success," is the way Carlos Guzman put it. "I've been here 10 years — I was hired by Sergio. The only thing I know is data walls and collaborative learning."
Guzman is referring to the fact that the post-Garcia master schedule builds in common planning times for teachers in departments to plan and learn together — another change that helped build the kind of culture that many teachers call "like a family."
But Garcia no longer builds the master schedule by himself. At the end of his first year, he brought together his leadership team — administrators and department chairs — and they created the next year's master schedule together. "It took us a week to build it," said Will Napier, the chair of the special education department and the second union representative. "Everyone had their own program that they wanted to push. Now, we're able to do it in a couple of days, because if it doesn't work for the greater good, we know not to argue for it."
Added Garcia, "I have 13 people to defend the master schedule."
Questions do arise, especially because the school has added many Advanced Placement classes and has enrolled many students who would not necessarily be considered prepared. "We're putting kids in there who are not 'AP kids,'" said Cecilia Hawn, chair of the mathematics department.
"We believe our kids can do whatever other kids can do," added Felicia Godinez, chair of the social studies department.
That doesn't mean they don't recognize the needs of their students. "We have a two-week AP camp in the summer to get them ready for the higher expectations; kids know they're at a huge disadvantage if they don't attend," Hawn said.
Scheduling, new courses, and data walls are hardly the sum and total of the improvements in instruction at Artesia, but they were integral to building the systems that allowed teachers to work together.
Garcia said that even when he arrived in what was then a low-performing school, he could see there was good teaching; it was a matter of ensuring that teachers worked together rather than in isolation to make sure that students experienced success.
no comments | Comment on this post | Permalink
May 11, 2016
Almost 12 years ago, Sergio Garcia became principal of Artesia High School, a school smack in the middle of a neighborhood in Southern California that has seen its share of gang violence. In fact, Rosie Gomez, who is today dean of students at Artesia, had herself been caught in the middle of a drive-by shooting when she was a student at the school in the 1990s. "It was terrifying," she said.
Fights were common at the school, and teachers were fed up with the continual disruption by students who flowed in and out of their classes, seemingly at will. "It was nothing like what it is now," Gomez told me.
At Garcia's first meeting with the staff, he asked the teachers what kinds of changes they most wanted him to make. The teachers' unanimous response was that they wanted him to "stop the 'tardies.'"
"Students would come in 30 minutes into class," one teacher said, adding that real instruction was impossible under those conditions.
When Garcia counted 230 late students in the first 20 minutes of school one day, he saw the magnitude of the problem in the 1,500-student school. Each tardy student represented two interruptions to instruction: when students showed up in class and were told to go get a pass from the office and when they reentered with the pass. "Do that five times, and how much teaching can really go on in a 50-minute period?" Garcia asked.
Garcia agreed to solve the problem of students being late to class. "But in exchange — because nothing comes for free — the teachers had to promise me they would teach bell-to-bell and show no videos unless related to the curriculum."
This demonstrates Garcia's approach to improvement — both instruction and student behavior needed to improve simultaneously in ways that reinforced each other. It also illustrates his desire to ensure that teachers feel they have a voice in how the school operates. "I hate when I'm told to do something," Garcia said. "But if you give me a voice, I will follow."
For the short term, Garcia set up an in-school suspension room for anyone who was late. "Within three days, we were able to get it under control," Garcia said. Now, on an average day there are just 15 students coming in late, rather than 230.
"We have changed the culture."
Garcia acknowledges that he and his fellow administrators still exercise a bit of a heavy hand in terms of discipline, in part because they have seen how far the school could fall without structures, systems, and enforcement. "We'll suspend students," he said. But even during a student's suspension, the school might bring him or her back for counseling, for a session of restorative justice conducted by an outside organization, or even for a special lesson that's important for a class.
In this way, the school reinforces the idea that discipline is not just about punishment but about ensuring that students get an education.
Ultimately, Garcia said, "It's about relationships. But it takes time to create those relationships."
Another part of changing the culture was to make it cool to be successful. To do that, however, the school first needed to make it safe to be successful.
Garcia realized that fact the first time he handed out T-shirts to students who either had a high grade point average or had improved their grade point average. "The first time, kids put the shirts in their backpacks. They didn't want to be seen as scholars," Garcia said. "A kid told me that he had to get out of here. 'If I get good grades here I'll get beat up.'"
"We decided," Garcia said, "that you have to do mass recognition to make it ok."
This was part of a strategy developed with Dennis Parker, a consultant brought in by Garcia at the very beginning of his tenure and who continues to be involved in the school. Parker drew on the work of Claude Steele to say that students find safety in numbers, and if enough students are recognized as high-performing, they will embrace that identity. That is one reason the school always recognizes not just absolute performance, but improvement. "Even if they are moving from a low F to an F+," Garcia said. "Sooner or later they move into the achievement category."
In addition, every classroom has a data wall, which tracks how students are doing on quizzes, tests, and assignments. "Now," Garcia said, "it's not cool to not do well. The big turnaround for us is that kids want the shirts and are proud to wear them."
no comments | Comment on this post | Permalink
April 26, 2016
When I saw these numbers I was intrigued:
77: Percent of students eligible for free or reduced-price meals
72: Percent of students who are Hispanic
9: Percent of students who are African American
98: Percent of students who graduated in 2015
100: Percent of African American students who graduated in 2015
These were the metrics for Artesia High School in Los Angeles County. Looking at the numbers, I wondered if the school had always been high-achieving.
So I looked for the school's Academic Performance Index, or API, a measure that California used until 2013 to measure the academic performance and growth of schools. Anything under 600 was considered very low performing; 800 was considered meeting state standards.
In 2004 Artesia High School's API was 577, which meant there wasn't a lot of learning going on there.
In 2013 the school's API was 777, a score comparable to those of much wealthier schools in the state.
That improvement — 200 points in eight years — represents a remarkable growth trajectory, particularly for a school where so many students come from low-income families, and where almost 40 percent of students do not have English as their first language.
I called the school's principal, Sergio Garcia, and asked what improvements the school had made to achieve such gains. "You have no idea the smile on my face," he said, happy that someone had noticed the school's improvement.
He took the job as principal almost 12 years ago, mostly because he wanted to work close to home while his kids were still young. He thought that cutting down on his commute would make his life easier. He was wrong.
Before even starting to work there, he toured the school and saw "five fights in a short time." His first thought, he remembers, was: "What have I gotten myself into?" His second: "I can really help this school."
In classrooms, he said, "I saw really good teachers. But they were working in isolation. I brought them together so they could work hand in hand."
Talking to Garcia made me realize there was a rich story to be told about Artesia, so I traveled to Los Angeles to see it for myself. I saw a calm, orderly school where students were debating climate change, writing about To Kill a Mockingbird, conducting forensic investigations, and calculating the force needed to push a piano up a ramp. In other words, I saw students learning — and teachers teaching — all within a culture of respect.
The two descriptions of the school I heard most from students were "fun" and "safe," and I couldn't find a student who didn't plan to go to college. In fact, the goal is for 100 percent of students to at least apply to college — and the school was very close to meeting that goal when I was there.
Getting from where the school was back in 2004 to where it is now was a long journey. It required some real know-how by educators who understand both instruction and the systems necessary to improve instruction and who recognize the power they have to change young people's lives. "I believe the way to create a better opportunity for my students is through an education," Garcia said. "For my kids, it's life and death."
For the next couple of weeks, I'll be reporting on different aspects of Artesia's improvement. Like any story of school improvement, Artesia's is complex and idiosyncratic. But it still holds lessons for other schools.
For now, though, let me just say why I was looking at Artesia's numbers to begin with. Artesia is part of the ABC Unified School District, a combination of three smaller districts in Los Angeles County not far from Compton. It is mostly a white, moderately wealthy suburban district, but it has a small number of schools where most of the students qualify for free or reduced-price meals, and where most students are of color. In 2013, my colleagues at Ed Trust-West identified ABC Unified as the second-top district in improvement for low-income students, which piqued my interest.
This spring I looked at how the district had performed on the new Smarter Balanced assessments, given for the first time in spring 2015.
ABC Unified District performed better than the state as a whole, but, more interesting to me, Hispanic students, African American students, and students from low-income families performed much better than their counterparts in the state. That led me to look deeper at individual schools, and that's when Artesia's data, which really stood out, caught my attention.
It is a high-poverty school that performed as well or better than the state in both reading and math, which led me to search for those numbers that I started this column with.
I realized that it was a story worth telling.
no comments | Comment on this post | Permalink
April 20, 2016
When news broke that Augusta Uwamanzu-Nna was admitted to all eight Ivy League schools, I'm guessing more than one person had the same reaction as someone on Facebook that there must be "something in the water" at Elmont Memorial High School. After all, Augusta isn't the first Elmont student to be admitted to all the Ivies — last year, as I wrote, Harold Ekeh was as well.
I was lucky enough to meet both Harold and Augusta when I visited Elmont last spring, and they are impressive young people. They worked hard and deserve every accolade that comes their way.
But there's something important to be said, which is that there are a lot of impressive young people all over the country and many don't succeed. For me a key question is: What help and support from their school did Harold and Augusta (and their fellow classmates) receive to be so successful?
Because, I should note, Elmont's success does not begin and end with a couple of top students.
Serving a mostly working-class population of students of color — mostly African Americans, but also a significant number of immigrants from Africa, the Caribbean, and Central and South America — Elmont graduated 92 percent of its entering cohort in 2015, 43 percent with an advanced designation. (New York state graduated 78 percent of its students, 32 percent of whom had earned an advanced designation.) More than 90 percent of Elmont's 2015 graduating class went on to two- or four-year colleges, including MIT, Cornell, and many of the State University of New York colleges.
So what does Elmont do?
An article in Black Enterprise began to answer that question, quoting Principal Kevin Dougherty on the Elmont teachers who have high expectations and the counseling staff who work hard to help every student develop and reach ambitious goals.
All true. But on an even deeper level, Elmont has systems that support those high expectations. So, for example, it began a science research program 10 years ago, with the intent of providing students the opportunity to do the kind of research that would launch them into the world of science. Both Augusta and Harold are Intel Science Finalists, which no doubt played a role in the desire of colleges to want them to enroll.
The research program, by the way, is not fancy. It is conducted in a small classroom — really, a large office — crammed with equipment and used by many students. But it is taught by dedicated teachers, David Spinnato and Michelle Flannery.
And they aren't the only dedicated teachers at Elmont. The place is chockablock with them. They carefully develop lessons, think through what misconceptions students might have about the material, and work to inspire and engage students. They continually reach for excellence in every field, from sports to drama to social studies and on and on, manifesting in its award-winning Model U.N. team, basketball team, drama program, and more.
That kind of consistent excellence does not happen by accident. It is the result of many years of work that began when Diane Scricca became principal of Elmont in 1990 and continued under the leadership of Al Harper, first, and then John Capozzi, who left last year to become assistant superintendent for the district.
Do you want proof Elmont wasn't a fluke but the result of the hard work of educators who know what they're doing? Here's a little piece of evidence. When Scricca left Elmont 13 years ago, she went to the nearby district of Malverne as an assistant superintendent, where she put in place systems similar to those she put in place at Elmont.
And this year Malverne High School is celebrating the fact that senior Ashley Akaeze was accepted at five of the Ivies, Stanford, and quite a few other colleges. But, like at Elmont, it's not just about Ashley; at least 60 percent of Malverne seniors will be graduating with an advanced designation this year and enrolling in colleges around New York and the nation.
If you want a little bit of hope that we have educators in this country who know how to help students reach high goals, Elmont and Malverne are great places to find it.
no comments | Comment on this post | Permalink
April 19, 2016
Last week, I wrote about the value of the information parents receive when their kids take common — or standardized — assessments.
But I know that leaves some parents wondering whether they are permitting their children to experience harm by taking those assessments. There's certainly a lot of rhetoric along those lines — that tests make kids anxious and nervous, lowers their self-confidence, wastes their time and, all in all, harms their well-being.
I would argue that if students experience tests in those ways, it's the fault of the adults around them.
Kids like to pit themselves against a challenge. Witness, for example, a kid who works really hard to go from one level to another on a video game, despite being defeated many times.
One of the differences between standardized tests and video games, though, is that no one thinks that failure in video games is a final pronouncement on their worth. You're not "stupid" if you fail — you simply haven't mastered the information or skill required to succeed yet.
The thrill of mastering that challenge is worth the frustration to get there.
That can be true for tests as well. I have talked with many students who like pitting themselves against state tests.
There are several keys to students having that attitude, though.
One is that the adults who surround the students see tests — and help kids see tests — as interesting challenges. They are not indicators of academic worth but provide information about what additional knowledge and skills students need.
Students and the adults around them should also think in terms of growth, not necessarily absolute achievement. This is particularly important for students who arrive at school behind — either because they had interrupted schooling, or are still learning English, or for whatever other reason. If adults can help students who are really not well prepared for a test one year see it as a baseline for the following year, this sets them up for future success and lessens the stigma of perceived failure in the present.
But there are other things that the adults in the system need to take into account, and I was reminded of some of them last week, when I received an email from a fabulous principal of a high-performing high-poverty school in New York. She uses assessments to think through what more needs to be done within the school to better serve kids. But, she said, "You don't need three days of testing to determine if they can read and understand what they are reading."
Point well taken. Standardized tests should not take up huge amounts of time, and New York seems to have gone a bit overboard. For example, fourth-graders take math and English tests that each are spread over three days. That is certainly part of why the op-out movement is so popular there. Although the state education commissioner, MaryEllen Elia, shortened the tests a bit, there might be more to do.
Another key is that the tests provide students — and their parents and teachers — with good information about how students are doing. Right now, as new assessments are being rolled out around the country, the information being provided is still pretty sketchy. For example, Smarter Balanced, which is being given in 15 states, does not provide analyses by item and classroom, so students and teachers can't see exactly where any misunderstandings were. Unless states provide much more complete information, it will be hard to build popular support for these assessments.
It might be useful to look at the experience of Massachusetts. When Massachusetts required that the high school class of 2003 pass its MCAS exams before graduating, the state was in turmoil. Angry teachers, parents, and students demonstrated and even burned the state education commissioner, David Driscoll, in effigy. He held firm, but every year he published the test in its entirety once students had taken it. That meant new questions had to be developed every year, which was expensive.
But over the years, support for MCAS grew as students, parents, teachers, and community members could see that it tested what most people thought a high school graduate should know and be able to do. And when students got their results back they were able to see where they went wrong and where they needed to improve. And, by the way, every once in a while they would find an error. When students convinced state testing officials that they could justify an answer that had been marked incorrect, the state went back and rescored that question for everyone.
In that way, Massachusetts built confidence in the integrity of the system.
And the information that teachers and schools received from these tests helped them think more about what else they needed to learn and do in order to help their students achieve.
For these reasons, it is best when assessments are published after they are administered or, at the very least, very detailed information is given to students and teachers about the questions students got wrong. That is the way to provide the kind of accurate feedback that is the key to any kind of improvement. States that don't provide it are missing a huge opportunity.
The big point about standardized testing, however, is that it provides information that is common across classrooms, schools, districts, states and, now that several states are giving the same test, across multiple states. That information — even if it is incomplete — can help students, schools, districts, and states to improve.
And if parents and teachers don't think of tests as the end of the world, students won't either.
no comments | Comment on this post | Permalink
April 11, 2016
Some kids tell their parents everything that goes on in school.
At least, that's what I've heard. My kids certainly never did. My older daughter, in particular, considered school to be her domain.
She established my outsider status her first day of nursery school, when I went to pick her up. Excited to hear about everything she had done, I asked her how her day went. Her response: "None of your business," or something to that effect.
I remember being shocked — and sad — at being blocked from the little dramas and excitements of her life. But then I realized that she was carving out an independent existence for herself. That was the first day I realized that I wouldn't always know what was going on with her and her schooling. I could meet with teachers, I could even volunteer in classrooms, but my children were separate people with their own lives.
Good for them, I think, now that they're grown and have, indeed, carved out separate lives.
On the other hand, I was aware that parents are supposed to know how their kids are doing in school. And over time I learned that report cards and teacher conferences can only tell you so much. Mostly, they told me that my kids turned in their homework and were compliant with the rules. They really didn't tell me if my kids were mastering the knowledge and skills they should be mastering.
I should say that back then I was pretty clueless about when kids should be writing the alphabet, when they should know their multiplication tables, and when they should be able to write an essay about a Supreme Court decision. I trusted that the teachers would know all that stuff.
But as my kids got older — and I got savvier — I realized that they weren't always learning what they should be learning, and that I needed to keep on top of that. Looking back, I wish I had been more on top of it earlier.
For example, I now realize that my district's curriculum had major holes. It included hardly any geography and had very little emphasis on measurement (gallons, quarts, liters, miles, yards, kilometers, etc.), to name just two of many topics that were missing.
I also came to realize that some teachers would be passionate about one particular aspect of the district's curriculum but gloss over important pieces. Other teachers would lose track of the curriculum altogether. In middle school, for example, my older daughter had an English teacher who spent class time (honest-to-goodness) managing her Beanie Baby inventory and a social studies teacher who seemed to yell at the students most of the time. (The principal required that teacher to take an anger management class, but it didn't seem to help.)
That is not to say those were my daughter's only experiences — she had positive ones as well.
But I realized over time that if a class didn't have some kind of common assessment at the end of it — either a district, state, or national assessment — whether teachers would actually teach what the students should be learning was a bit of a crap shoot. If there was an assessment at the end of the class, I knew that the teachers would at least try and teach the knowledge and skills that would be assessed.
Maybe this shouldn't be. Maybe all teachers should be teaching everything students need to know, and students should be learning simply out of the sheer joy of it, without reference to any kind of outside assessment.
But in the real world of being a parent, I found it really useful to know how my children did on an assessment that other students in the district, state, or country were also taking.
That is why I am a little puzzled by the "opt out" movement, which in some states showed surprising strength last year. Parents, saying they didn't want their children taking state tests, demanded that they be excused from taking them.
I hope they rethink that position this year.
In this column, I usually talk about how important common assessments are in providing information to teachers and principals to improve instruction. That is why I think it is important for all kids in a school to take common — or standardized — assessments.
But those assessments are also important to let parents know whether their kids are on track so that they can get them any help they may need and ask the school informed questions about curriculum and instruction.
If, for example, a third-grade student scores below standard in reading, that is a signal to parents to ask the teacher what additional help he or she is arranging. If all the students in a school do badly on a common algebra assessment, this suggests parents may need to ask what the school is doing to help the teachers deepen their knowledge and improve their instructional skills.
The thing to remember is that these are not intelligence tests. They merely provide a signal that can help parents and teachers know whether children need additional help or enrichment, and in what areas the knowledge and skills of the teachers need to be ramped up.
Not that any test is a final arbiter of anything. Kids have good days and bad days, and on any given day a kid can perform well or badly on a test — which is why an assessment is just one of many markers of what kids are learning. Similarly, not every question on a test is well-worded or a good indicator of mastery — which is why I believe that all assessment questions should be released to teachers, students, and parents, so they can evaluate their value.
But even with all the vagaries of kid moods and test questions that are not released, assessment results still provide important information. And most parents need all the information they can get — even if their children are more forthcoming than mine were.
no comments | Comment on this post | Permalink
March 31, 2016
I recently learned that my work has been used as justification by school officials who advocate deliberately concentrating poverty in a few schools.
My reaction is dismay.
The high-performing, high-poverty schools I write about hold many lessons, but none of them is that we should deliberately create more high-poverty schools.
First, the context. In suburban Northern Virginia's Loudoun County, which not long ago was largely rural farmland and today is suburban sprawl, school enrollments continually grow as apartment buildings and housing developments fill up with families.
What that means, as anyone who has lived in a rapidly growing area knows, is that school boundaries have to change fairly often.
A few years ago Loudoun County drew school boundaries in such a way that the children of low-income families — many of them Hispanic — living in a few apartment complexes were dispersed into a few different schools up to three miles away from their homes.
Enrollments have kept growing and the Loudoun County School Board has to readjust the borders again.
As someone who has lived through a couple of them, I can attest that boundary adjustments are hard on communities. Kids develop friendships and bonds with teachers. They feel comfortable in their routines, and change can be difficult. Same thing for the parents and teachers, who develop relationships with fellow parents and colleagues. So let us just stipulate that there are no really good solutions, and school boards and administrators are often faced with very difficult decisions when having to redraw school boundaries.
But let us also understand that it is in these seemingly small, difficult decisions that we demonstrate what kind of people we are and what kind of people we want to be.
The Loudoun County School Board is considering a few different plans. Some would just readjust to simply balance out the numbers with space in schools. But one, Plan 12, has the explicit purpose of bringing the children living in the apartment houses back into two neighborhood schools in order to concentrate students from low-income families.
One of the rationales being used is that it would be advantageous to the children from low-income families because it would be easier for the schools to serve them. (To hear a school board member make this argument, listen here.)
Two pieces of evidence are being used to justify this rationale:
That a couple of Loudoun County's Title I schools (with significant concentrations of students from low-income homes) are doing pretty well.
That other schools with large concentrations of children from low-income homes have also done well, as evidenced by the work of "Karin Chenoweth [who has] written two books on the subject. Her books tell the stories of schools with large percentages of students from economically disadvantaged backgrounds changing those odds."
Those are the words of an assistant superintendent in support of the idea of re-drawing the boundaries in such a way that half or more of the students would be from low-income families, most of them Hispanic.
I looked at the report card of one of Loudoun County's Title I schools, Sterling Elementary, and it does seem to be doing pretty well, more or less matching the state's performance (though not matching the county's performance).
And it is true that I have spent the last decade of my life documenting that schools with large concentrations of students of color and students from low-income families can achieve at high levels. I have written two books, co-written a third, and written many columns with evidence from actual schools.
But the idea that any high-poverty school is doing well because it has a high concentration of children from low-income families is a big leap of logic.
In fact, the educators in the schools I have written about would scoff at the idea that educating all students in a high-poverty school is somehow easier or inherently more efficient.
They are successful, I would argue, because the educators in them have figured out how to operate at a much higher level than most schools operate. They are more thoughtful, more deliberate, and more efficient in lots of ways, from the way they build their master schedules to the way they structure their professional development. They are driven to do things differently because they believe their students are capable of excellence and deserve the opportunity to prove they are. But these high-performing, high-poverty schools are called outliers because they are so rare. Far more typical is the high-poverty school that regularly meets the low expectations that are often held for them.
That's why I would advise educators and school board members in Loudoun County to go visit Sterling Elementary — and other high-poverty schools that are doing well — to see what lessons they might hold in terms of improving instruction.
I suspect that they will find what I have — that almost any technique or strategy used by these schools can be implemented in all schools to improve the academic and social success of all students.
But no school board member should ignore the huge body of research that demonstrates that, on average, children from low-income families benefit from being in mostly middle-class schools — which is mostly what Loudoun County has. In fact, all kids benefit from integration — both economic and ethnic — in lots of ways, from academic achievement to developing social confidence in a variety of settings.
So let us learn best practices from those educators who effectively serve students living in poverty. But let's not use their success to defend "separate but equal" schools.
1 comment | Comment on this post | Permalink
March 15, 2016
In the last few weeks I've visited five schools in four states. Each of them educates large numbers of students from low-income homes and students of color, and each is either high-performing or on an impressive improvement trajectory.
The schools are different in lots of ways, but one thing characterizes them all: Teachers, principals, and other administrators work hard at building trusting relationships that help create a sense of agency and purpose.
Here are three examples of what I mean:
At Malverne High School on New York's Long Island, I saw the principal and two assistant principals plant themselves where all the students had to pass so that they could say hello at the opening of school. "This is our spot," Principal Vincent Romano told me. They would ask entering students about an exam or say encouraging words about an athletic, artistic, or academic accomplishment. Students would grin sheepishly, share some good news, or walk past silently, eyes down. Those silent students would trigger a mental note on the part of the administrators to check what was going on with that student.
Romano first started at the school as assistant principal years ago, and remembers the hallways back then as chaotic, with students continually roaming the halls and getting into trouble, often ending in suspension. Today the hallways are as calm as high school students can allow.
I asked: How did the school get from there to here? A lot of high school principals, after all, would love to know the secret of a calm school without a lot of significant discipline issues.
"We built relationships," Romano said. "It's all about relationships."
I saw the effect of a little of his work later that day, when a young woman in her 20s came to talk with a group of ninth-graders who the school considers "at risk." She said she had been one of those hallway roamers — and fighters — in her freshman year. Her family then moved several times, and she never did graduate from high school, but she has recently enrolled in classes at Nassau Community College and is determined to become a teacher. "All those years I had a little voice in my head telling me I could do it and I should get an education."
That voice? "Dr. Romano's," she said.
"I spent a lot of time with her that year," Romano said, laughing. "She was a real problem."
But the idea that he had built such a strong relationship with someone who was a disciplinary headache was a powerful testament to the idea that, as educators have heard forever, "nobody cares how much you know, until they know how much you care."
In Dr. Robert Gilliard Elementary School in Mobile, Alabama, I similarly saw the principal and assistant principal greeting students as they entered and headed to class.
As a long line of students passed by, one tall student stopped in front of Principal Debbie Bolden. She handed him her walkie-talkie so that she could open and rummage through his backpack. She gave him a hug, told him how great he was doing, and told him to have a good day. As he went off to class she said, "I have to search his backpack every day because he threatened to kill his teacher."
As it turned out, he was a new student and had arrived pretty out of control. "It takes us about three weeks," she said. "But he's straightening out." She said that he was starting to understand that the adults in his school care about him and want him to succeed. By the way, that doesn't mean the educators are blind to serious mental illness — the school's need qualified it for Mobile Mental Health to provide a therapist three days a week. In addition a psychiatrist is on campus once a week.
They are all there to help the students succeed.
Finally, I heard about a student in Pass Christian, Mississippi, who had stopped coming to school in his senior year. Meridith Bang, who was until recently the principal of the high school and is now director of curriculum for the district, told me that the student had become convinced that he had no chance of graduating. "He thought it was impossible," Bang said.
Bang and the current principal, Robyn Killebrew, went to the student's house on a weekend, and Killebrew laid out exactly what he needed to do to graduate. "We told him it wouldn't be easy, but we'd all help," Bang said.
Then Bang asked the student which teacher had had the most effect on him. The student named his fifth-grade teacher.
The reason the student remembered the teacher, Bang said, was because the teacher had told him that he could succeed. "I told him he still could succeed," Bang said. Then Bang asked the fifth-grade teacher if she could write a letter to the student reminding him of her earlier optimism. The student is back in class, planning to walk the stage at graduation.
In each of those cases it would be easy for the school to write off such students and try to get them off their books. But that's not how the educators in these schools operate.
They believe in the capacity of all students to learn and grow and overcome obstacles, and they take the time to build the relationships necessary for the students to trust them enough to believe.
Educators in high-performing high-poverty schools have often told me that "there are no short cuts." And one of the things they mean is that there is no way to convince kids that you believe in them — unless you really do.
no comments | Comment on this post | Permalink
February 26, 2016
The first time Dr. James Hunderfund entered Malverne High School, the hallways felt "hostile."
"You didn't want to stay in one place too long," he said recently.
That was then. This is now.
Back then, Hunderfund was interim superintendent of the small district in Nassau County, New York, where Malverne High School is the only high school. He was one of a long series of superintendents, a detail mirrored by a large turnover of staff at the high school.
He's still there, and the young assistant principal who started at roughly the same time is now principal. The intervening years have seen a lot of improvement.
In 2003, for example, only about 51 percent of students graduated with a Regents, or standard, diploma. Ninety-three percent graduated last year, with 54 percent of them earning an Advanced Designation. A big deal in New York State, the Advanced Designation represents mastery of a college preparatory curriculum, and almost 70 percent of Malverne's students are on track right now to earn one this year.
At the same time, the number of students taking at least one Advanced Placement (AP) exam has grown to 142 in 2015 — impressive in a school that only has about 500 students. And 66 percent of them pass, a much higher percentage than many schools and meaningful in a school that works to include students in AP classes rather than exclude them.
But wait, there's more. More than 100 students are in the band, and 65 students are on the robotics team, which represented New York in the national competition that took place in Kentucky last year. Many students participate in theater, play on sports teams, and the list goes on.
Needless to say, the hallways don't feel hostile. More like bustling. "I call it Little New York," said Al Lewis, a retired New York City principal who has grandchildren in the school, "because it never sleeps." Students are in the building from 7:00 in the morning to 9:00 at night in play rehearsals, basketball games, AP review classes, and more.
Despite all that success, students at Malverne High School report that their school is still stigmatized. Part of the reason, they say, is that the school's history as a low-performing school still haunts it. But part of it is simply because about half the students qualify for free and reduced-price meals, and 80 percent of the students are either African American or Hispanic.
"As a person of color, that's something you deal with your whole life," said senior Brianna Atkins about what she says is an expectation that a school with mostly students of color must automatically be low-performing.
Malverne's story is part of the story of Nassau County, which has been called "one of the most fragmented, segregated, and unequal in the U.S." Although the residents of Malverne are predominately white, most of the town's children go to private or parochial schools, a legacy of 1970s-era white flight. The 60 percent of students who are African American and 20 percent who are Hispanic mostly live in the next town over, Lakeview.
Recently, however, a few white students have started trickling back, which now means about 15 percent of the students in the school are white, drawn to a school where, as Jeanne D'Esposito, a white parent, said, "You never run into a closed door."
There is a lot that has gone into making Malverne High School as successful as it is: teachers who say their motto is "above and beyond" and students who deeply appreciate their teachers' efforts. "I can't tell you how many times I've heard the words, 'I'll make it work,'" is how sophomore Olivia St. John put it.
But one of the keys has to be the work of the leadership team led by Principal Dr. Vincent Romano, who ensures that his school opens as many opportunities to students as possible. To give an example of what I mean, I'm going to call attention to something that people who don't work in high schools may not appreciate: the school's master schedule.
School schedules are a bit of an obscure topic in education, but nowhere are a school's priorities and values more on display than in its schedule, and Malverne's is built around making sure all students get the classes they need and want. This is in sharp contrast to many high schools, where students are told that they have to choose among the classes they want to take because of "the schedule."
As an assistant principal for many years, Romano was responsible for building the master schedule. Since becoming principal, he has handed the immediate responsibility off to Dean of Students Christopher Brescia, but Brescia is just as obsessive as Romano about ensuring that "no computer should tell a kid no," as he put it.
Speaking from experience, Romano said that Brescia spends "thousands of hours on the schedule — he basically hand schedules every student."
Romano introduced me to two students who are hoping to be teachers, one a foreign language teacher. They mentioned they were taking AP Spanish and AP Italian, and Romano started to laugh. He said that when they had started thinking about this year's schedule, he had told Brescia that the one thing they could bank on was that no one would take both AP Spanish and AP Italian, so they put them at the same time. "And then these two came along, and we had to change the whole schedule."
Any high school student or parent will recognize that as going — as the teachers put it — "above and beyond."
I'll be writing more about Malverne in the future, but for now I just want to say that Malverne High School demonstrates that there are educators out there who know how to make schools work for all kids.
Regular readers of this column may remember my writing about another Long Island school, Elmont Memorial High School. There is a pivotal relationship that links the two schools, which I'll continue to write about.
no comments | Comment on this post | Permalink
February 12, 2016
I have become convinced that the main reason some schools can be successful with students whom other schools would write off is that the teachers and administrators have an almost infinite belief in students' capacity to learn and grow.
Belief isn't magic — alone it doesn't transform anything. But belief in students gives teachers and administrators the will and drive to learn what they need to teach all children.
And success builds on success. A couple of weeks ago, I was in University Park Campus School, which was awarded Ed Trust's Dispelling the Myth Award in 2005 and remains high-performing 10 years later.
I write about the way University Park approaches state assessment in Huffington Post this week, but I thought that here I would share what the current principal, Dan St. Louis, said about students:
"We've taken in tough cohorts of kids both now and in the past. But the absolute unwavering belief that we as the adults can make them functional is what drives us. We have a long history of success, and as successful professionals we are unwilling to let go of that success. We just do everything and anything we can to get everyone on board — eventually. It doesn't all work at first. It gets really frustrating when [students] seem to want to disrespect and buck the system every day. But we have absolute faith that we will get them — someday."
You can tell there's just a little bit of exasperation in what he says — but that's the exasperation a parent might feel. He doesn't give up; he simply acknowledges the difficulties in dealing with ornery teenagers.
After all, he added: "It's the only thing we're here to do. If we can't help them we should go do some other job."
1 comment | Comment on this post | Permalink